GREETING
Eiryo Kawakami
Professor, Department of Artificial Intelligence Medicine, Graduate School of Medicine, Chiba University
Director, the Center for Artificial Intelligence Research in Therapeutics
RIKEN Medical Sciences Innovation Hub Program Team Leader, Health Data Mathematical Reasoning Team
Unit Leader, Healthcare and Medical Data-Driven, AI-Based Predictive Reasoning Development Unit
In recent years, the introduction of data science in medical research has been rapidly progressing due to the widespread use of artificial intelligence (AI) technologies in the development of measurement techniques. Especially for cancer diseases and chronic inflammatory diseases, including allergic immune diseases and lifestyle-related diseases, which are diverse and difficult to explain and treat based on a single model, data-driven research is gaining attention, in which researchers perform comprehensive observations and data acquisition on target diseases and create data-based personalized models. This data-driven research requires a team of various specialists, including those in clinical medicine, basic biology, systems biology, and mathematical information science, to make an interdisciplinary approach. Since there are few research institutions that cover all these fields of specialty even in other countries, international collaborative research is important. However, it is very difficult to transfer medical data across borders due to privacy and ethical issues. Thus, our research center was established with the support of the Japan Society for the Promotion of Science (JSPS) to promote data-driven medical research by moving researchers rather than data.
Another purpose of this center is to foster young researchers who will lead the next-generation healthcare and medical research. In recent years, medical and life sciences have been undergoing a transition from the era of genomics and molecular biology to the era of artificial intelligence (AI) and data sciences. In medical and biological sciences, researchers who will play a central role in the next generation are expected to have advanced expertise of not only medical science but also mathematical science. This project is centered on the Center for Artificial Intelligence Research in Therapeutics, Graduate School of Medicine, Chiba University, and we want to create an environment in which young Japanese and foreign researchers study abroad for several months at research centers, including the University of Luxembourg and the University of Tubingen, and which enables them to have a deep mutual understanding and play a central role in research projects.
I wish that young researchers will transcend the national boundaries and the borders of academic fields by participating in this project, and acquire expertise and achievements in multiple fields, in addition to their original expertise.
PROJECTS
01Data-driven Disease Stratification and Prediction of Immune and Allergic Diseases

Immune and allergic diseases, such as atopic dermatitis and rheumatoid arthritis, are multifactorial diseases that develop due to a complex combination of genetic, immune, and environmental factors. It is becoming clear that their nature is a collection of a wide variety of disease states. In previous research, however, each disease was often reported as a single disease state, and such studies did not lead to adequate understanding of the disease or clinical application. In this research, we will recruit researchers in systems biology and mathematical information science in Japan and foreign countries, develop an algorithm to classify the disease states of patients, using data collected continuously and systematically by Chiba University, and create a model for predicting changes in the disease state for each patient population thus classified. Thereby, we will propose accurate understanding and prediction of disease states and personalized medicine.
02Systems Medical Research on Degenerative Neurological Diseases

Degenerative neurological diseases, including Parkinson's disease, become increasingly common with the aging of the population worldwide, compromising the healthy life expectancy of patients. Although multiple genetic and environmental factors associated with the onset of the diseases have been identified, the mechanism of onset has not been elucidated, and there is no prevention or complete cure for the diseases. This research integrates multiparametric clinical data based on the research base of systems medicine of the University of Luxembourg, in order to stratify degenerative neurological diseases and construct individualized models of disease onset and disease state.
03Elucidation of Cancer Diversity and Individualized Prediction based on Clinical Data

Cancer has been the leading cause of death in Japan since 1981, and the number of affected patients has increased worldwide as the population ages. In addition to genetic factors, cancer is considered to be caused by exposure to external factors and develop in the long-term process, and it is known that prognosis and drug response vary greatly according to stage and histological type. In recent years, with the advent of effective anticancer drugs, such as poly (ADP-ribose) polymerase (PARP) inhibitors and antibody-based drugs, it has become highly desirable to predict disease stage and histological type before surgery and to develop an appropriate treatment strategy for each patient. In this research, we will understand the diversity of cancer by applying the techniques of machine learning and mathematical information science to the data on various cancer diseases accumulated by the University of Tubingen, and develop an individualized prediction algorithm.
Luxembourg Members
ルクセンブルクメンバーの名前

ルクセンブルクメンバーの名前

ルクセンブルクメンバーの職位
ルクセンブルクメンバーの職位

ルクセンブルクメンバーの名前

ルクセンブルクメンバーの職位
ルクセンブルクメンバーの職位

テキストが入ります。テキストが入ります。テキストが入ります。テキストが入ります。テキストが入ります。テキストが入ります。テキストが入ります。テキストが入ります。テキストが入ります。テキストが入ります。テキストが入ります。テキストが入ります。テキストが入ります。

テキストが入ります。テキストが入ります。テキストが入ります。テキストが入ります。テキストが入ります。テキストが入ります。テキストが入ります。テキストが入ります。テキストが入ります。テキストが入ります。テキストが入ります。テキストが入ります。テキストが入ります。

テキストが入ります。テキストが入ります。テキストが入ります。テキストが入ります。テキストが入ります。テキストが入ります。テキストが入ります。テキストが入ります。テキストが入ります。テキストが入ります。テキストが入ります。テキストが入ります。テキストが入ります。

Major Articles

Press Release
German Members
ドイツメンバーの名前

ドイツメンバーの名前

ドイツメンバーの職位
ドイツメンバーの職位

ドイツメンバーの名前

ドイツメンバーの職位
ドイツメンバーの職位

テキストが入ります。テキストが入ります。テキストが入ります。テキストが入ります。テキストが入ります。テキストが入ります。テキストが入ります。テキストが入ります。テキストが入ります。テキストが入ります。テキストが入ります。テキストが入ります。テキストが入ります。

テキストが入ります。テキストが入ります。テキストが入ります。テキストが入ります。テキストが入ります。テキストが入ります。テキストが入ります。テキストが入ります。テキストが入ります。テキストが入ります。テキストが入ります。テキストが入ります。テキストが入ります。

テキストが入ります。テキストが入ります。テキストが入ります。テキストが入ります。テキストが入ります。テキストが入ります。テキストが入ります。テキストが入ります。テキストが入ります。テキストが入ります。テキストが入ります。テキストが入ります。テキストが入ります。

Major Articles

Press Release
Latest Research Results
We opened a website.

Latest Research Results will be publiched here.
INTRODUCTION
Data Collection, Measurement, and Standardization

We will continuously collect high-quality data, focusing on allergic diseases. Since it is presumed to be difficult to stratify diseases and disease states with conventional clinical parameters alone, it will also be important to measure, with high accuracy, new clinical parameters that reflect disease diversity and disease states. Standardization that is not affected by differences among facilities or measurement errors is also a major challenge in utilizing clinical data. By utilizing a standardized system based on data from around the world in omics measurement and promoting the standardization of various clinical data, we are expecting that the techniques for measuring clinical parameters acquired in this project and the algorithms for stratification and prediction based on the techniques will become the world standard.
Stratification and Prediction

We believe that data-driven medical research that we address in this project will enable highly accurate predictions based on the disease state of each patient. For example, there are still many diseases for which indication criteria have not been clearly defined for antibody drugs, which have been rapidly introduced into medical practice in recent years. Therefore, it is necessary to appropriately stratify diseases and determine the indication criteria according to each patient's disease type and condition. This project not only involves many researchers who lead data-driven research in Japan, but also invites world-class researchers in mathematical information science in Luxembourg and Germany. We believe that this project will realize the development of techniques for stratification and prediction that will lead the future world.
Biological Verification and Social Implementation

Biological verification is an important step in applying data-based stratification and prediction to actual medical practice. Stratification and prediction by machine learning are not based on universal principles, and may be biased by the original data. For this reason, the validity of stratification and prediction needs to be examined biologically. We will promote reverse translational research that verifies findings and hypotheses from clinical data, by using a corresponding mouse model. Data-based stratification and prediction are provisional and dependent on the type and quantity of data. The development of new treatments or significant changes in the global environment may alter the diversity of disease itself. Therefore, this project aims to create a system that will continue to evolve by continuously collecting data according to the development of medical treatment, rather than creating and continuing to use the best algorithm at some point in time.
ACCESS
&


CONTACT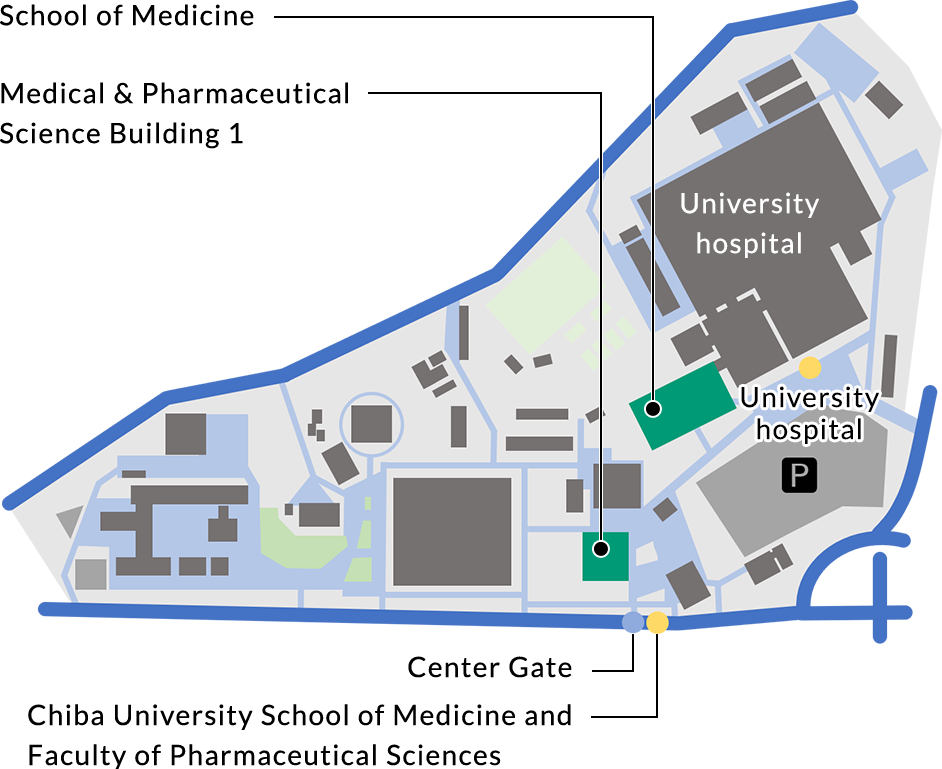 ACCESS
From JR Chiba St.

Service route: Chiba University Hospital/Minami Yahagi from Bus stop No.7 at east exit.
Operator: Keisei Bus.
Duration: approx. 15 min.
Get off at "Chiba University School of Medicine and Faculty of Pharmaceutical Sciences".
From JR Soga St.

Service route: University Hospital from the Bus stop No.2 at east exit.
Operator: Kominato Bus/ Chiba-chuo Bus
Duration: approx. 13 min.
Get off at "University Hospital".
Google Map
CONTACT
5F, School of Medicine, 1-8-1
Inohana, Chuo-ku,
Chiba-shi, Chiba
260-8670, JAPAN
Department of Artificial Intelligence Medicine
E-mail: keiko-y@chiba-u.jp